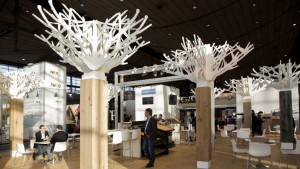 In terms of numbers, DOMOTEX 2016, which runs from 16 to 19 January, is expected to feature some 1,400 exhibitors from more than 60 countries.
"We're on track for an extremely successful DOMOTEX 2016," commented Dr. Jochen Köckler, a member of the Managing Board at Deutsche Messe. "We have already received more exhibitor bookings than in previous years. And the reason for that is simple: people with innovative products and ideas need a strong international platform. They need DOMOTEX. As the flagship showcase of the carpets and floor coverings industry, DOMOTEX sets the tone. It is the only show that provides a comprehensive overview of the latest trends and innovations on the floor coverings market."
"About 85 percent of the show's exhibitors will be from outside Germany. They are taking part in DOMOTEX 2016 in order to tap into new export markets," Köckler said. After Germany, the biggest exhibiting nations in terms of leased space are Turkey, India, Belgium, China, the Netherlands and Iran.
"One thing we can already say with certainty is that LVT tiles and planks will be one of the big attractions at the show. And no wonder, with all those innovative printed designs and textures to choose from," Köckler said.
The LVT offering at the upcoming DOMOTEX will be much bigger than ever before. The show's parquet and laminate flooring section will also be bigger, with exhibitor numbers and exhibition space both noticeably up on 2014. The exhibitor lineup in the parquet and laminate products section will, for instance, include numerous premium suppliers such as Bauwerk, Gazzotti, Margaritelli, Mafi and Scheucher.
Source: www.domotex.de