Terrace board with wide corrugation
Thermo treated ash decking is an ideal material for finishing of terraces, balconies, winter gardens and swimming pools. Beautiful brown colour is obtained by subjecting ash boards to high temperature. After the thermo treatment, the humidity level of the ash wood is reduced by about 50%, the wood becomes more durable, resistant to moisture and has lower absorbability. Thanks to this, our Terrace Board is resistant to water and changing weather conditions, and preserves its appealing look for much longer.
This 100% natural solid wood product is sustainable and ecological solution for outdoor decking.
Thermo treated Ash board with narrow corrugation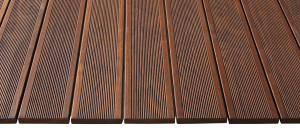 Dimensions
Thickness: 21 mm
Width: 120 mm, 135 mm, 150mm
Length: 1200, 1500, 1800, 2100, 2400, 2700*, 3000*, 3300*, 3600* mm.
* lenghts available depending on the availability of the raw material